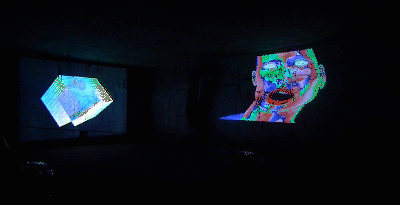 Looping over several minutes, Emilio Gomariz' liquefied and rainbow-colored bust spins, unravels, and winds back up again (right). Anthony Antonellis' "Unsustainable Shape" rotates slowly like an item in a jewelry shop -- a baffling, cubic venn diagram, (left).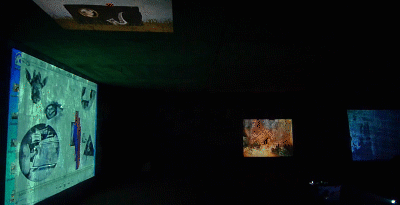 (Left to right) Lorna Millsí humping, head-banging, darkly-humored gif collage shines bright white on a cracked and graffitied wall. Most people take a few minutes to notice that Hendrik Niefeld 's subtle, unnerving piece is actually moving -- a strange still life with gently bending reeds, a head, an apple with a fly circling it, and a saxophone. Helen Adamidou's erotic gif of an intimate kiss glitches unapologetically, while Kim Asendorf's video, a complex, rotating matrix of tiny screens, falls out of view just as the viewer begins to figure out what is playing.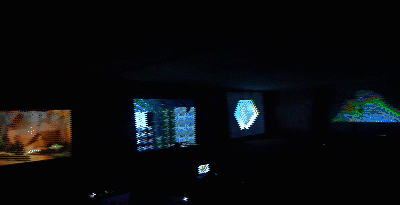 (Left to right) Helen Adamidou, Kim Asendorf, Anthony Antonellis, Emilio Gomariz. For scale there is a 13" laptop in the middle of the space.